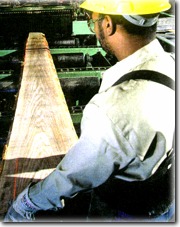 Production
T & S Hardwoods is committed to providing quality products and personal service. From log selection to milling and drying; from order processing to tracking and shipping, we pursue state-of-the-art equipment and the highest standards of quality control.

Careful attention is given to T & S lumber during an average stay of four to five months in the air drying yard to produce straight and flat lumber for kiln drying.

Before T & S Hardwood lumber is ready for shipment, it has been checked and rechecked for quality consistency, end painting, and accurate markings for product identification. From start to finish, meticulous attention to detail guarantees that we ship our products to our customers on time to meet deadlines and on grade to meet specifications.

Our sawmill operations are continually modernized and are among the most efficient in the hardwood industry. Each has sustainable timber resources and a reliable professional team to meet your hardwood lumber needs.
Appalachian
(17,000,000' /yr)
Southern
(18,000,000' /yr)

Red Oak (53%)
White Oak (22%)
Poplar (12%)
Ash (3%)
Hard Maple (3%)
Soft Maple (2.5%)
Cherry (2%)
Basswood (2%)
Misc. Species(.5%)

Red Oak (50%)
White Oak (15%)
Ash (13%)
Poplar (7%)
Cypress (8%)
Soft Maple (1%)
Hackberry (1%)
Sycamore (.5%)
Misc Species(.5%)
Our products include:
Hardwood Grade Lumber(Green & Kiln Dried)
Select & #2 Common Cypress
Hardwood Flooring Lumber
Hardwood Pallet Lumber/Cants
Hardwood Chips & Sawdust
Hardwood & Cypress Mulch
Switch Ties
Shipping Options:
Flat Bed Trucks
Export Containers
Rail Cars